Travel these days has been – how should I put it? – non-existent. But, if you're like my family, you've craved a change of scenery, a change of experiences. So we created the next best thing: Travel dinners (with a box of treats for dessert). Here's how we do it.
Disclosure: This post includes affiliate links.
What's A Travel Dinner Night?
OK, first a little backstory: When I was dating my husband, way back in the day, we knew we wanted to travel the world but as a young woman working at a newspaper, that was far from realistic for us. We devised the next best thing:
We'd pick a country.
Find recipes from that country to prepare, including entrees and a dessert…and probably booze.
Order a CD from a popular artist in that country (this was way back in the day).
And watch a "Globe Trekker" episode while we ate our dinner. Sometimes, we'd even rent a movie from that country.
It was a great date night.
And now, with kids, we've tweaked it because spending a few hours cooking food is just not going to happen with them.
Our destination for the dinner now is determined by what's in the next Universal Yums box (more on that in a second). Our current family's version of Travel Dinner Night includes:
1. DINNER – Ordering food from a local restaurant. We ordered food from Salween Thai for our Thailand dinner, for instance. Since our kids are not exactly the most adventurous eaters (yet), we ordered dishes to share and sample.
For other dinners, we've ordered from The Hunger Block (Columbia) and Chaikhana (Russia). Omaha has a surprisingly wide variety of restaurants, and I hope your city does too!
2. DRINKS – Most nights, it's just water for us. Wild, right?
When we do plan ahead, we've been able to get some great stuff, like Thai beer at Nebraska's largest liquor store, Wine Beer & Spirits.
3. MUSIC – CDs are out and Spotify is in. It's a lot easier to find music from around the world now. We stick to playlists.
Lemme tell you, the kids got a kick out of the Thai pop music.
4. WATCH – I love travel shows, and I'm trying my hardest to get the kids to like them, too. Apparently, my kids don't like dated "Globe Trekker" episodes and they don't share my love for Rick Steves.
So for Columbia and Russia nights, we found shorter travel vlogger clips on YouTube. It wasn't nearly as satisfying for me, but the kids liked it.
5. TREATS – And for dessert, we tasted 12 different snack foods from the country thanks to the Universal Yums box. The box provided kid-friendly information about the country as well as about each of the treats we tasted. We had fun marking down what we liked most and least in the box.
How to plan your own global meal
We currently are letting Universal Yums deliveries dictate our monthly destination. A sampling of the boxes we received includes Thailand, Russia, Columbia and Italy.
The anticipation of the next box's arrival is fun for all of us.
Of course, you don't have to do a delivery service like Universal Yum. It's just a fun way to introduce flavors from around the world to your kids.
Here are a few resources to help you plan:
Google and Pinterest are your friends when it comes to looking up recipes.
If you want to go my route and save the dishes while supporting local businesses, ask your friends for recommendations for restaurants that may serve dishes from your chosen country. We do take-out right now.
Dessert can be somewhat tricky if you and your children are used to the more American fare of desserts.
If you're a non-drinker, obviously skip looking for wine, beer, or booze from your chosen country. You may have luck, however, finding specialty drinks, teas, or other beverages online.
Spotify is super helpful for finding music from around the world.
Amazon is a great resource for finding kids books from different countries.
YouTube and PBS streaming services are good places to look for travel videos from different series. There are a lot of series out there to explore, so if one doesn't suit your family's taste, keep on looking.
You can find some printables to help younger kids feel a part of the night. I've printed out flags to color, for instance.
Other ideas: Look for games that kids and families may play in the country you've chosen; look for subtitled movies on streaming services.
About Universal Yums, a monthly snack subscription box
Universal Yums is a monthly subscription service that sends you a box featuring snacks from a different country each month. The snacks are a mix of sweet and savory (and sometimes spicy).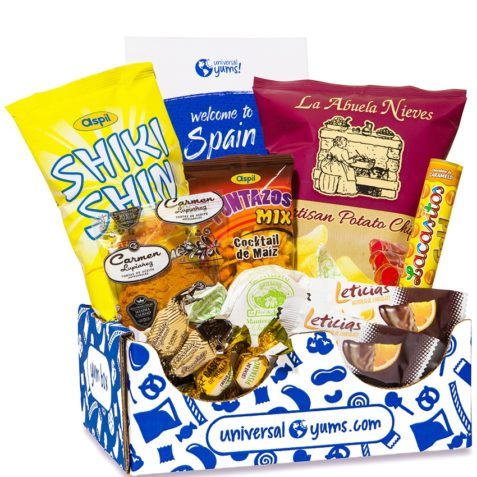 For your subscription, you can choose between the standard box which gives you six snacks, or go for more snacks, and choose for a box with 12 snacks or 20 snacks.
We're a family of four, so splitting 12 snacks was plenty for us.
Plus, if you go beyond the smallest option, you get helpful added guides that provide trivia about the country, interesting background about each snack, and a map. It's all very helpful in rounding out the dinner.
Do you have a unique way to introduce other countries and cultures to your children? I'd love to hear about it! Please share your tips in the comments section.